Tell me and I forget.

Teach me and I remember.

Involve me and I learn.
When I connect the dots of my life that have led me to who I am today, I remember a favorite childhood game I loved to play.  We called it "school."  There was always a teacher and a student.  Bet you can't guess who I wanted to play each time?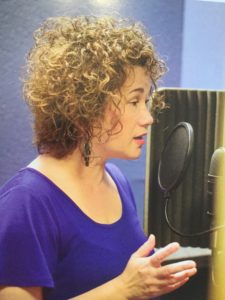 I must 'profess' that my voice-over career comes at the heels of my work as a tenured Full Professor of Media and Communication Studies, at Lander University, where my focus has been training students in the areas of performance, including: GAE: General American English, IPA, Public Speaking, Acting, Directing, Voiceover, Voice Production, and Oral interpretation.  Other special topics have included ALBA Emoting Method, Suzuki Voice and Movement, Laban, Shakespeare, Acting Styles, and Audition Techniques.
I believe in engaging my students.  They are so used to communicating through electronic devices, that many really do not know how to interact in social situations.  I give them opportunities to discover and communicate who they are.  Plus, I help them to prepare for life after college by  inviting guest speakers, or challenge them to seek new information by giving them creative projects, or get them to take risks through performance competitions and exercises.
What gives me the greatest joy, is when I hear that they are successful in their chosen career paths.  What warms my heart even more, is when they contact me to thank me for the lessons I have taught them.  Being able to make a positive difference in another person's life is a gift that will always keep on giving.
It has also been a blessing to be able to not only teach what I LOVE, but actually DO what I teach. My real life experience allows me to engage with my students. Whether I am sharing current techniques, or bringing in guest speakers active in the profession, my goal is to give them knowledge and teach them tangible skills they can apply today. I've been able to do so because I have enjoyed a satisfying career as a director and as an actress, producing or playing a wide range of roles, from classics to contemporary plays. I've been fortunate to now carry over these skills into my voiceover work in Audiobooks, eLearning, Corporate Narration, Podcast hosting, and more.
I also offer many of classes online privately or in group sessions via ZOOM.  Ask about my Acting Classes, Emotional Intelligence in Voiceover, Introduction to Voiceover, and General American English Coaching sessions.
Monique Bagwell is an outstanding professor. Even 16 year later (oh time flies) I still feel the motivation, energy, strength, and confidence she provided every time we met in class. Monique is a unique, engaging, and influential professor and will always be remembered.
—Meredith Brown, Stress Management Speaker 
I have been out of college for 10 years, and there were so many courses I took as an undergraduate, that I cannot tell you a single thing I learned. The things I learned in Monique's classes have stuck with me for years.  I have more memories of her classes than any other courses I took, because of how she taught.

–Kelly Tillinghast, Graduate Academic Adviser