Good, my lord, will you see the players well bestowed? Do you hear, let them be well used; for they are the abstract and brief chronicles of the time: after your death you were better have a bad epitaph than their ill report while you live.
Hamlet Act II, scene 2
My formal training in performance studies came from Brooklyn College (BFA ) and The Ohio State University (MFA).  These programs prepared me for a wealth of wonderful acting roles during the past 30 years.  They were performed in a variety of venues around the nation, and even abroad.  Many of which earned me awards, including BEST ACTRESS.
Special training in Stanislavsky, ALBA Emoting, Acting Styles, Laban, Linklater, Suzuki Voice and Movement, Kabuki, Accents and Dialects, Directing, Improvisation, IPA, Voice and Diction, have all been important skills in my creative toolbox.  Plus Master classes in a variety of theatre techniques also reinforce my approach to any creative work.  As far as I am concerned, training never really stops. I am a life long learner, and enjoy looking for ways I can grow as a performer.
The characters I have performed ranged from classics… such as Kate in Taming of the Shrew, Olivia in Twelfth Night, Lady Teazle in School for Scandal, Hecuba in Trojan Women, Hedda in Hedda Gabler… to contemporary plays… such as Honey in Whose Afraid of Virginia Woolf, Edna in Prisoner of Second Avenue, Betty in Catifsh Moon, Sara Lee in Daddy's Dyin Whose Got the Will, Anne Sullivan in Miracle Worker, Rita in Women on Fire…to name just a few.  The audience comments on my performances such as: "riveting," "worth the price of the ticket," and "unbelievable range," are the reasons I still step out of the booth and on to the stage.
    (Sample Show from top left to bottom:Rita in WOMEN ON FIRE)  Mary in VANITIES, Wife in PHOTOS AT AN EXHIBITION, Vera in TEN LITTLE INDIANS, Margo in TILL BETH DO US PART, Sara Lee in DADDY'S DYIN WHOSE GOT THE WILL)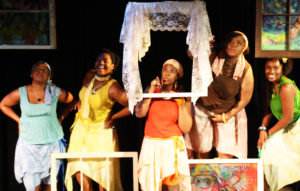 Learn about my DIRECTING career